For those of you that don't know, I ended up going to Santa Cruz to look for jobs, last minute thing. Today I spent most of the day going to as many properties in the area, mostly around UC Santa Cruz, but some others were just outside the Aptos area too. I met with a few managers, told them about myself, gave a resume or got an email to send one to. I met someone else who gave me their entire market survey list. Now I have about 6 more places to go. I also met someone who was incredibly helpful and provided even more resources. I swear you make your own luck. By doing all this, getting my name out there, shaking hands, sharing my story and my motive to move up here…I'm just bettering my chances of getting that call. That's all I can ask for. And if someone calls me for an interview and get that job and move up here, you know who I'm NOT thanking and praising for something so wonderful to happen to me. I will have earned this on my own 100%. I needed this bad. I almost forgot I was alive and had a fucking purpose. A little time away, surrounded by the trees and some motivation can do a lot of good! Fuck…
Taking a little break from the job search!! This view is amazzzziinnggg
I was sitting on a bench for a while enjoying this view, thinking about how I'm gonna get up to this area. I've felt better just being here.
First thing I've learned being up here so far; they conserve their water…damn. California needs rain bad. I love it here though! Just arrived a few hours ago and already thinking I'm going to stay another day longer. Too much to do with only one full day!
Bottom of an iceberg that just rolled over
Google Maps meets 'Game of Thrones' in interactive Westeros map
It's easy to get lost in a land as vast as Westeros. If you've been wishing Google would just break down the barriers between reality and fiction and map out the world of "Game of Thrones," this interactive map of Westeros and Essos may be as close as you'll get to having that dream come true.
Clicking on place names opens a window with more information from A Wiki of Ice and Fire, the Wikipedia-style repository of "Game of Thrones" information.
You don't have to have read all the books to have a spoiler-free experience. A convenient slider lets you set the map to only reveal information up to the point where you're caught up. You can switch between chapters of the books or episodes of the TV series, so it has you covered regardless of how you consume George R.R. Martin's creation. I've read the books, so I have the chapter slider cranked as far as it will go.
You can't get horse-riding directions from Winterfell to King's Landing, but you can trace the movements of quite a few characters from the series. Arya Stark's wanderings are particularly fascinating to see laid out across a map. Others, like Joffrey Baratheon's path, are pretty straightforward. Select multiple characters to see where they overlapped and crossed each other's paths.
But wait, there's more. Clicking on the "nobility of Westeros" option places the sigils of noble houses large and small onto their proper locations on the map. Hover over to see the house names and marvel about how complex the social structure of "Game of Thrones" is. A similar option for constituencies shows where each region's loyalty lies.
Of course, the ideal way to consume this map would be while sitting in your $30,000 Iron Throne replica, but we can't all be so fortunate. We can still dream of a day when Google Street View magically makes its way through Westeros. After all, Google already managed to Street-View the Tardis. Would Westeros really be so hard?
View the noble houses of "Game of Thrones."
http://www.cnet.com/news/google-maps-meets-game-of-thrones-in-interactive-westeros-map/
Going up to Santa Cruz for a couple days! Brought something nice to wear and some resumes. Gotta find a damn job if I want to make things happen!! Really excited about this :)
The telescope big enough to spot signs of alien life on other planets
Engineers are about to blast away the top of a Chilean mountain to create a site for the European Extremely Large Telescope. It will allow us, for the first time, to directly observe planets outside the solar system.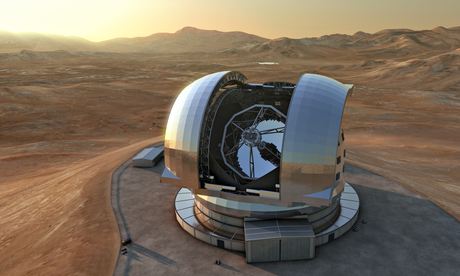 Cerro Armazones is a crumbling dome of rock that dominates the parched peaks of the Chilean Coast Range north of Santiago. A couple of old concrete platforms and some rusty pipes, parts of the mountain's old weather station, are the only hints that humans have ever taken an interest in this forbidding, arid place. Even the views look alien, with the surrounding boulder-strewn desert bearing a remarkable resemblance to the landscape of Mars.
Dramatic change is coming to Cerro Armazones, however – for in a few weeks, the 10,000ft mountain is going to have its top knocked off. "We are going to blast it with dynamite and then carry off the rubble," says engineer Gird Hudepohl. "We will take about 80ft off the top of the mountain to create a plateau – and when we have done that, we will build the world's biggest telescope there."
Given the peak's remote, inhospitable location that might sound an improbable claim – except for the fact that Hudepohl has done this sort of thing before. He is one of the European Southern Observatory's most experienced engineers and was involved in the decapitation of another nearby mountain, Cerro Paranal, on which his team then erected one of the planet's most sophisticated observatories.
The Paranal complex has been in operation for more than a decade and includes four giant instruments with eight-metre-wide mirrors – known as the Very Large Telescopes or VLTs – as well as control rooms and a labyrinth of underground tunnels linking its instruments. More than 100 astronomers, engineers and support staff work and live there. A few dozen metres below the telescopes, they have a sports complex with a squash court, an indoor football pitch, and a luxurious 110-room residence that has a central swimming pool and a restaurant serving meals and drinks around the clock. Built overlooking one of the world's driest deserts, the place is an amazing oasis. (See box.)
Now the European Southern Observatory, of which Britain is a key member state, wants Hudepohl and his team to repeat this remarkable trick and take the top off Cerro Armazones, which is 20km distant. Though this time they will construct an instrument so huge it will dwarf all the telescopes on Paranal put together, and any other telescope on the planet. When completed, the European Extremely Large Telescope (E-ELT) and its 39-metre mirror will allow astronomers to peer further intospace and look further back into the history of the universe than any other astronomical device in existence. Its construction will push telescope-making to its limit, however. Its primary mirror will be made of almost 800 segments – each 1.4 metres in diameter but only a few centimetres thick – which will have to be aligned with microscopic precision.
It is a remarkable juxtaposition: in the midst of utter desolation, scientists have built giant machines engineered to operate with smooth perfection and are now planning to top this achievement by building an even more vast device. The question is: for what purpose? Why go to a remote wilderness in northern Chile and chop down peaks to make homes for some of the planet's most complex scientific hardware?
The answer is straightforward, says Cambridge University astronomer Professor Gerry Gilmore. It is all about water. "The atmosphere here is as dry as you can get and that is critically important. Water molecules obscure the view from telescopes on the ground. It is like trying to peer through mist – for mist is essentially a suspension of water molecules in the air, after all, and they obscure your vision. For a telescope based at sea level that is a major drawback.
"However, if you build your telescope where the atmosphere above you is completely dry, you will get the best possible views of the stars – and there is nowhere on Earth that has air drier than this place. For good measure, the high-altitude winds blow in a smooth, laminar manner above Paranal – like slabs of glass – so images of stars remain remarkably steady as well."
The view of the heavens here is close to perfect, in other words – as an evening stroll around the viewing platform on Paranal demonstrates vividly. During my visit, the Milky Way hung over the observatory like a single white sheet. I could see the four main stars of the Southern Cross; Alpha Centauri, whose unseen companion Proxima Centauri is the closest star to our solar system; the two Magellanic Clouds, satellite galaxies of our own Milky Way; and the Coalsack, an interstellar dust cloud that forms a striking silhouette against the starry Milky Way. None are visible in northern skies and none appear with such brilliance anywhere else on the planet.
Hence the decision to build this extraordinary complex of VLTs. At sunset, each one's housing is opened and the four great telescopes are brought slowly into operation. Each machine is made to rotate and swivel, like football players stretching muscles before a match. Each housing is the size of a block of flats. Yet they move in complete silence, so precise is their engineering.
Building the four VLTs, which have been named Antu (Sun), Kueyen (Moon), Melipal (Southern Cross) and Yepun (Venus) in the language of Mapuche people of Chile, was a formidable challenge, needless to say. Each has a giant mirror that is 8.2 metres in diameter but only 17cm thick: any thicker, and the mirror would be too heavy to move and point. Such thinness leaves the mirrors liable to deform as temperatures and air pressure fluctuate, however, and so each has 150 actuators fitted to its unpolished side. These push the mirrors to keep them within a few billionths of a centimetre of their proper shape. In addition, ESO astronomers use a laser-based system known as adaptive optics to measure turbulence in the upper atmosphere and to change each telescope's internal mirror configuration to compensate for any disturbance they can measure.
The result is a cluster of astronomical devices of incredible power and flexibility, one that has been involved in an astonishing number of critically important discoveries and observations over the past decade, as ESO astronomer Olivier Hainaut explains. "Perhaps the VLT's most spectacular achievement was its tracking of stars at the centre of the Milky Way. Astronomers followed them as they revolved around… nothing. Eventually they were able to show that something incredibly small and dark and massive lay at the centre of this interstellar waltz. This was the first time, we now know, that scientists had directly observed the effect of the supermassive black hole that lies at the heart of our galaxy."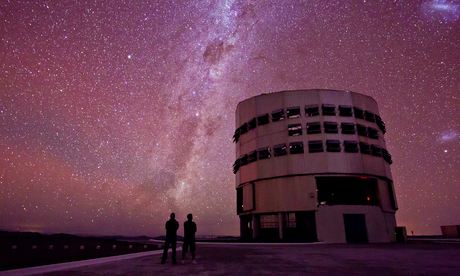 The VLTs also played a key role in providing observations which showed, from the behaviour of distant supernovae, that the expansion of the universe was actually accelerating thanks to the action of a force now known as dark energy. This discovery later won Saul Perlmutter, Brian Schmidt and Adam Riess the 2011 Nobel prize for physics. And in 2004 the telescopes were used to make a direct observation of an exoplanet – a planet that orbits around a star other than our Sun. It was another astronomical first. Until then scientists had only been able to infer the existence of exoplanets from the way they affected the movement of their parent star or its light output. "This was history-book material, a discovery of the same quality as Galileo's drawings of the mountains on the moon or the satellites of Jupiter," says Hainaut.
These discoveries have only whetted astronomers' appetites for more, however. Hence the decision to build the £800m E-ELT – whose British funding will come through a £88m investment from the UK Science & Technology Facilities Council. Engineers have now completed a road to the mountain from Paranal and on 16 June are set to begin blasting to remove the top from Cerro Armazones. Then they will start to build the E-ELT using 798 hexagonal pieces of mirror to create a mammoth device that will be able to collect a hundred million times more light than the human eye. When completed in around 2025, the 2,700-tonne telescope will be housed in a 74 metre high dome and operated by astronomers working 20kms away in Paranal. It will be the world's biggest eye on the sky.
An indication of the E-ELT's potential is provided by ESO astronomer Linda Schmidtobreick. "There are fundamental issues that only a telescope the size of the E-ELT can resolve," she says. "Its mirror will have a surface area 10 times bigger than any other telescope, which means it will take a 10th of the time to collect the same amount of light – ie the same number of photons – from an object compared with these other instruments."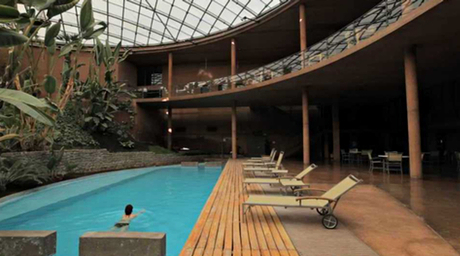 For Schmidtobreick, this ability to collect light quickly is crucial to her research. She studies stars known as cataclysmic variables: pairs of stars in which one is pulling vast amounts of gas, mainly hydrogen, from its companion, a process that can trigger gigantic thermonuclear eruptions, sometimes within 30 seconds or so. "With current instruments, it can take minutes or hours to collect light from these objects, which is too long to resolve what is happening," says Schmidtobreick. "But with the E-ELT, we will be able to study many, many more cataclysmic variables because we will be able to collect significant amounts of light from them in seconds rather than minutes or hours and so will be to resolve their behaviour."
Simone Zaggia, of the Inaf Observatory of Padua, is another frequent visitor to Paranal and has a very different reason for backing the E-ELT. He believes it will play a vital role in the hunt for exoplanets – in particular, exoplanets that are Earth-like and which could support life. "At present, our biggest telescopes can only spot really big exoplanets, giants that are as big as Jupiter and Saturn," he says.
"But we really want to know about the smaller worlds that make up the solar systems in our galaxy. In other words, we want to find out if there are many Earth-like planets in our part of the universe. More importantly we want to find out if their atmospheres contain levels of oxygen or carbon dioxide or methane or other substances that suggest there is life there. To do that, we need a giant telescope like the E-ELT."
This point is backed by Gilmore. "We can see exoplanets but we cannot study them in detail because – from our distant perspective – they appear so close to their parent stars. However, the magnification which the E-ELT will provide will mean we will be able to look at them directly and clearly. In 15 years, we should have a picture of a planet around another star and that picture could show its surface changing colour just as Earth does as the seasons change – indicating that vegetation exists on that world. We will then have found alien life."
Astronomers' amazing home
A walk down the alleyway that leads from Paranal observatory's entrance gate into its astronomers' residence produces one of the most striking changes in surroundings you can experience in a few footsteps. Outside the air is parched and the ground bleached by sunlight from a sky that is hardly ever troubled by clouds. Push through the double swing doors and you enter a rainforest – and a path that leads down through towering ferns and tropical plants until you reach a swimming pool in the residence's lowest level. As accommodation goes, it's as exotic as you can get - though hedonism was far from the minds of the architects when they designed it.
To battle the arid conditions of the air at 8,600ft-high Paranal, they wanted a way to keep it moist and fresh for the scientists staying there. The answer was a swimming pool and an indoor tropical garden that is constantly watered with supplies imported by trucks from the coast every day. Moist air from the pool and garden then circulates around the rest of the residence. The result is a building that is remarkably airy and light – until 7pm when, every night, all openings and windows, including the vast glass dome over the pool, are closed and shuttered automatically to prevent any chink of light from affecting observations made on the mountain top.
The scale and style of Paranal and its residence is extraordinary and movie producers have fallen over themselves in their attempts to film it. Most have been turned down – with the exception of the 2008 Bond film,Quantum of Solace, whose final scenes were filmed here. (In contrast the last X-Men film was turned down flat because its producers wanted to fly helicopters near the observatory's precious telescope complex.) Given the vast cost of building and running Paranal, filming was not allowed to disturb its tight observing schedule. "I was woken up by the sound of someone repeatedly jumping on to the balcony in the room next to mine," one astronomer recalls. "It turned out to be the actress Olga Kurylenko - who plays the film's heroine Camille. It was quite a shock. I mean you don't get that sort thing happening at other observatories."
http://www.theguardian.com/science/2014/apr/20/spot-alien-life-european-extremely-large-telescope-chilean
GoPro: A Blonde and a Great White Shark
I literally have no idea how anyone can do this. 
This is the best gif you'll ever see
University Of Mississippi Frat Shut Down After Members Tied Noose To Desegregation Statue
The fact that this happened in Mississippi shouldn't surprise anyone, but it's still appalling. We'll see if the students involved get expelled or not…
JACKSON, Miss. (AP) — A national fraternity group has closed its University of Mississippi chapter after three members were accused of tying a noose around the neck of a statue of the first black student to enroll in the Southern college that was all-white at the time.
The university announced Thursday that the national office of Sigma Phi Epsilon, based in Richmond, Va., had closed its Ole Miss chapter.Besides the noose, someone draped a pre-2003 Georgia state flag with a Confederate battle emblem in its design on the face of the James Meredith statue in the pre-dawn hours of Feb. 16. Meredith's enrollment in 1962 set off a violent attack by anti-integration protesters on federal authorities, leaving two people dead and scores injured.
The names of the three students from Georgia haven't been released. They were kicked out of the chapter, which itself had been suspended pending the review.
Ole Miss spokesman Tom Eppes said university disciplinary proceedings against the three students are ongoing. He also said the FBI is still investigating.
The Lafayette County district attorney has said state charges won't be brought because no state laws were broken. Mississippi's hate crime law requires an underlying crime for those additional charges. Because the statute itself wasn't marred or broken, prosecutors say typical vandalism charges don't apply.
After the noose was found, the university asked the national headquarters to review the 130-member chapter, which had been on campus since 1987.
"The closure is not a result of what happened with the Meredith statue, but the Meredith statue precipitated the intensive review of how they conduct business," Blanton said.
Ole Miss and fraternity officials said they found a pattern of underage drinking and hazing which broke both university and Sigma Phi Epsilon rules. University officials said the national office had previously intervened in 2010 to fix similar problems.
"We are disappointed that a pattern of bad behavior and serious, inexcusable hazing occurred within the chapter," Dean of Students Sparky Reardon said in a statement. "Periodic reports from and meetings with local alumni and national headquarters led us to believe that the chapter was improving."
Sigma Phi Epsilon CEO Brian Warren said the group had "no choice" but to close the unit.
"Though it's always painful to close a chapter, these students' actions clearly illustrate a determination to perpetuate an experience based on risky and unconstructive behavior," he said in a statement.
Blanton said students currently living in the Sigma Phi Epsilon house on campus would be allowed to stay and eat meals there through the end of the semester, but would not be allowed to have any social activities. After that, he said the university, which owns the land under the house, and the fraternity would discuss uses for the structure.
Sigma Phi officials said they would discuss a return to campus with the university. It's not clear how long that might take. Blanton said that several years ago, the university did not reinstate the closed chapter of another fraternity until all the members at the time of the closure had graduated.
Administrators have fought against the university's Old South image, banning Confederate battle flags from football games in 2003 and ditching its Colonel Reb mascot for a black bear in 2010. But those efforts have been undermined by unflattering incidents, such as an election night disturbance in November 2012 when some students used racial slurs and profanity to protest President Barack Obama's re-election, or an October 2013 performance of "The Laramie Project" where football players and other students used gay slurs to heckle the play about the 1998 murder of University of Wyoming student Matthew Shepherd, who was gay.
video: 

12-yr-old takes on NC Governor re. voting rights
The following article provided by Daily Kos regarding Madison's next political target, Phyllis Schlafly. Amazing to see someone at the age of 12 do more with their voice than the majority of people ever will…
Phyllis Schlafly Gets Schooled By A Twelve Year-Old
OK, not just any twelve year-old. Those of you who follow the Moral Monday movement in North Carolina may remember Madison Kimrey, the twelve year-old who stood in front of Governor McCrory's mansion and spoke up for voter rights, and who McCrory insulted by having an aide bring out cookies. 
In an open letter, she very eloquently defines what feminism is.
You MUST click the link and read the whole thing, but I'll give a precis and some highlights.
She begins by attempting to find something they both have in common so she can speak to Ms. Schlafly on equal terms:
I've been thinking about how I can explain what feminism means to my generation in a way you might not have thought of before. I wanted to try to work from something we have in common, and it's been kind of hard to find something I have in common with you. Then, it came to me. I bet you wear a bra.
Using the context of shopping for a foundation garment, Miss Kimrey very clearly shows what true equality is.
I don't know where you shop for your bras, but I bet you have a favorite one. I bet you have that one bra that's comfortable and goes with just about everything. I bet the last thing you were thinking about when you bought that  bra was what a man would think about it.

Well, making choices in our lives as young women is kind of like finding that favorite bra. Not all of us are going to fit into the same kind and not all of us are going to find the same style attractive. We all deserve to have as many choices as possible, and as women, we shouldn't be judging the choices made by other women. Choosing a bra is a very personal choice and is none of anyone else's business. We should be, as women, looking for ways we can expand the choices both for ourselves and other women, just as Megan Grassell did when she started Yellowberry. Equality doesn't mean women will all make the same choice. It means women will be treated the same no matter what choices they make.
Then she goes in for the kill:
What you're doing, Ms. Schlafly, is contributing to something very disturbing I see happening with some of the teenage girls I know. At a time in their lives when they should be free, independent, and exploring and preparing for the possibilities they have in the future, many of them are worried about getting or keeping a boyfriend. There are young women my age who are extremely smart but they hide it because they get messages from women like you that if they are too smart or successful, boys won't like them. They get messages from women like you that pleasing a man should be their number one goal.
And that's not even the last part. By the time it's done, the mic is dropped, and Schlafly is left, a quivering mass, on History's Ashbin of Irrelevancy.
I'm voting for Madison Kimrey for President in 2040.
http://www.dailykos.com/story/2014/04/19/1293216/-Phyllis-Schlafly-Gets-Schooled-By-A-Twelve-Year-Old
http://www.huffingtonpost.com/2014/04/15/phyllis-schlafly-equal-pay_n_5154150.html
http://www.washingtonpost.com/blogs/compost/wp/2014/04/15/phyllis-schlaflys-funny-logic-on-the-wage-gap-and-the-husband-gap/
Report: Obama to grant clemency for hundreds of nonviolent drug offenders
Wow!! This would be big, but the laws obviously need to be changed if you are going to pardon a huge number of people for non-violent drug offenses. This is great though…
As part of a new clemency initiative, President Obama could pardon hundreds or even thousands of nonviolent drug offenders by the end of his second term, Yahoo News reports.
Mr. Obama granted very few pardons in his first five years in office: He's granted just 52 of the 1,600 pardon requests he's received and just 10 out of 10,000 commutation requests to reduce a sentence. To rectify that, the Justice Department in February asked defense lawyers and interest groups to help the department identify prisoners serving long sentences for nonviolent drug crimes. Based on that research, the president could grant the largest number of clemencies since the 1970's. To help handle the project, the administration is planning on bringing on additional staff and reforming the Justice Department's Office of the Pardon Attorney, Yahoo reports.
The changes are part of a broader push — by the administration and bipartisan lawmakers on Capitol Hill — to reform unfair sentencing laws and cut the Justice Department's growing prison spending. Last year, for instance, Attorney General Eric Holder directed prosecutors to stop charging many nonviolent drug defendants with offenses that carry mandatory minimum sentences. Meanwhile, lawmakers like conservative Sen. Mike Lee, R-Utah, and liberal Sen. Dick Durbin, D-Ill., are working together on legislation covering the issue.
A November 2013 report by the American Civil Liberties Union said that at least 3,278 prisoners in the U.S. are serving life sentences without parole for nonviolent drug and property crimes.
http://www.cbsnews.com/news/report-obama-to-grant-clemency-for-hundreds-of-nonviolent-drug-offenders/